Note: The recent panel discussion at MACNA 2014 in Denver makes this old thread very pertinent. Some of the questions raised: What parts of the system are a Refuge? How to make the Refugium effective yet simple?
What speed of water flow is best? What components LS, LR, Algae are best?
Hobby expert and reef aquarium industry professional John Walch inspired my first RDP Refugium in 1996. As a WMAS Guest Speaker, he spoke to us shortly before his groundbreaking article was published in a hobby magazine(FAMA). My story is here in the June 2002 issue of the WMAS SeaStar newsletter: http://www.utahreefs.com/SeaStar/wmasSeaStar02Feb.pdf" rel="nofollow - http://www.utahreefs.com/SeaStar/wmasSeaStar02Feb.pdf
RDP stands for Reverse Daylight Photosynthesis which means the RDP Refugium lights are on at night and off during the day. My first RDP Refugium (first in Utah that I know of) was an ordinary rubbermaid tub using a MaxiJet 1000 powerhead for a return pump! The MJ sent only a trickle of water 4 feet back up to the display, but it worked.

Amazingly, in the week following the addition of this first simple RDP Refugium, when mushrooms had expanded from 1" to 5", I knew this was a breakthrough.

Here is a picture taken in the early days of digital cameras. The image is that same tank a year or so after adding the RDP Refugium (circa 1997).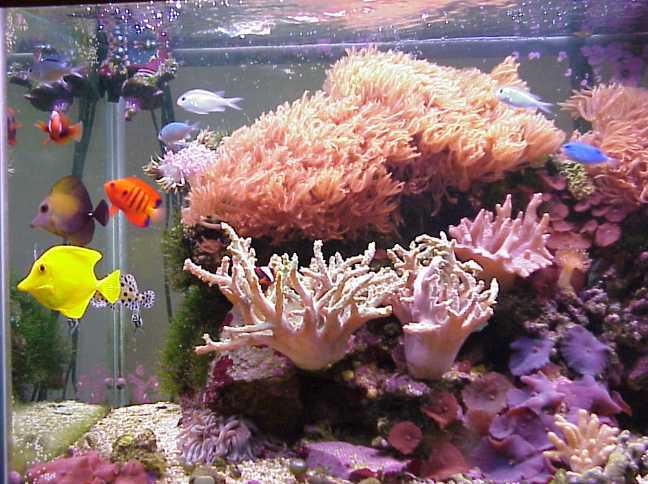 What makes me such a crazy hobbyist is that I stopped using the Skimmer in 1997 and have never gone back to using one. Nowadays I go skimmerless just to continue to prove a point.

Skimmers are great and useful but not necessary. A Skimmer removes organic waste from the reef aquarium so that the major modes of nitrogen and sulfur reduction, LR, LS, LW, and Algae, can handle a larger than natural fish population.
It seems to me that the best purpose of a Refugium tank is to grow and harvest Macroalgae as fast as possible, thereby removing pollution ASAP. The critters produced in the Refugium is a secondary benefit but the importance of nightime pH control is probably on par with removal of N compounds by growing and harvesting Macroalgae because algae growth equals CO2 removal and oxygenation.
Secondary to the primary purpose of an RDP Refugium is to place in the Refugium a sand bed of sufficient capacity to reduce Nitrogen, Phosphorus and Sulfur compounds to their non toxic levels. The size of sand makes a difference. Smaller particle sand requires less depth to do the same job. Some people choose to make the sand bed in the refugium double that in the main display. Some hobbyists choose to forgo the sand bed in the display when they have a DSB (Deep Sand Bed) or Plenum sand bed in the Refugium. As you can see in the pic below, that RDP Refugium had no sand and the rock pile had another purpose. Please read below the pic for my explanation.
Going back to the amount of flow through an RDP Refugium and what I learned from my early Refugiums, I started to notice that coralline algae grew best near the fast water stream. This got me to noticing that Macroalgae did the same, not directly in a fast stream, but right next to it. What if I changed my setup to send more than a trickle through a Refugium? In the end I determined that the best results came when water moved rapidly over and past the Refugium algae.
The attempt to maximize algae growth cannot occur of course, without also ensuring the RDP lighting contains plenty of the spectrum algae likes. That's why before I used the "daylight" standard screw-in socket twist PC bulbs, I was all about the standard pinkish plant/aquarium bulbs, and pink/blue combo PC tubes. Unfortunately the PC tube shows as white in this pic. They really are 50/50 blue - pink.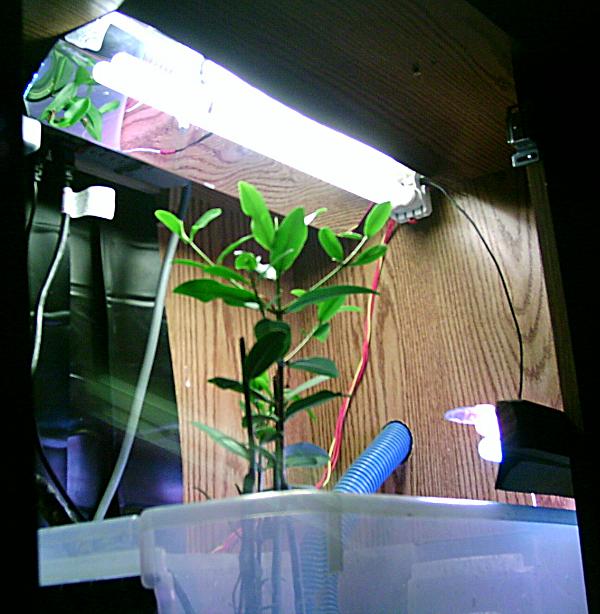 This writing has come to a point where I might as well explain what this means regarding Refugium design. If what works best is to have rapid flow of water past a field of Macroalgae, how do we accomplish that? In order to create the most effective Refuge, I have made the area as large as possible. RDP Refugiums should be as simple as possible yet as large as possible. This means I also use the least amount of baffles and if I can get away with it, no baffles. Water flows faster through a smaller area and bubbles only get released from the water as it slows down so opening up the entire refugium area allows bubbles to rise and pop. A maze of Macroalgae also stops micro bubbles. They tend to stick to the algae.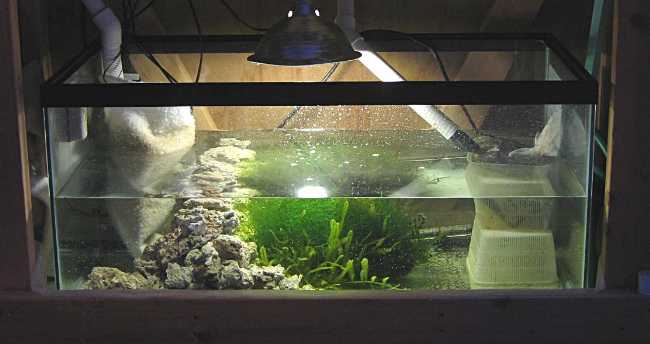 From left to right in the pic above; the floss bag traps detritus and stops a froth of bubbles from entering the Refugium. The wall of rock is just Utah rock waiting to be used in my coral farming operation. It also also helps keep things from being blown around when changing the floss bag. The Macroalgae, a combination of Chaetomorpha and Caulerpa, is very helpful as a bubble trap before the water reaches the return pump. The submersible return pump is raised up near the operating level of water so that in the unlikely event of a drain clog, the amount of water that can be returned will not overflow the main tank above. The way to do this with an external pump is to drill the Refugium halfway up and set the pump on a pedastal. This allows the sand bed to cover the entire bottom of the Refugium.

There's more to come as I have time to write... but here's a complete pic: The major flow for this system is not the return pump. Unseen above the Refugium is a 1200 gph Little Giant external pump sitting on a platform hanging on springs. The springs very effectively suppressed vibration. This is what is called a Closed Loop water circulation system. (Note: As of this edit in 2014, I no longer recommend the closed loop system because stream powerheads are superior.)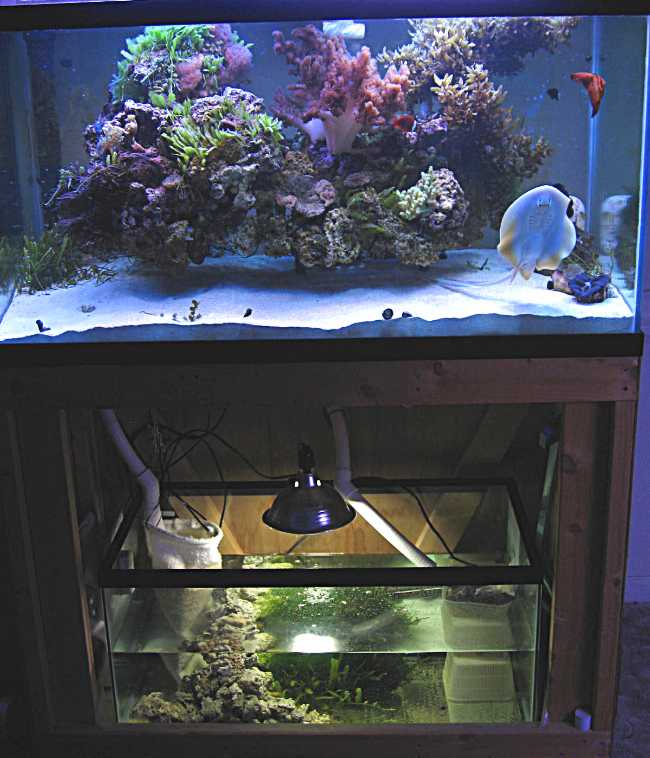 One reason for doing an RDP Refugium is to handle the waste that can build up in a reef aquarium. This waste is commonly called Detritus.
Detritus is typically thought of as leftover food and fish waste, but there is more to it than that. The clumps of detritus are made up of billions of bacteria. Various microscopic organisms also live in the detritus, eating it and excreting their own waste. This changes the composition of detritus.
Interestingly, detritus is a very good food for many organisms in our tanks. That's why hobbyists are encouraged to allow all kinds of organizms to grow. This is the cycle of life in a reef aquarium. Aquariums with a richer diversity of microscopic life are usually healthier. Too much skimming and the over-use of Ozone or UV Sterilization generally kills this microscopic life which would otherwise eat the detritus. We typically hear that skimming, Ozone and UV Sterilization make a tank cleaner, but overuse can create an imbalance in the cycle of life.
Many hobbyists have found that Bristleworms are a major part of the cleanup crew and that they eat detritus.

Many years ago I had a 15 gal tank located in a south facing basement window sill. It was connected to a system of two other tanks. The window tank was a refugium full of all kinds of Macroalgae. The water flowed from there down to a 10 gal unlighted sump full of live Sponge then up to a 3'x3'x1' 65 gal frag tank. The window refugium had some fish for a while but was left without fish for many months. It was during this period of no fish that I stopped feeding. After several months, I noticed the Bristleworms had started crawling around even during the day, searching for food. They had become very hungry. The tank also became very clean.
I observed Bristleworms ingesting the substrate sand. Sand particles would go through the Bristleworm's digestive system, essentially digesting the bacterial film coating on the sand particle. The particles would exit their body cleaner than when they had entered. Bristleworms are only one type of the many interesting organisms that help recycle waste and keep our reef clean and very alive.

Refugiums come in many different sizes and locations. Generally it's understood that the larger the better. The location depends on the individual circumstances. A Refugium is most often placed below the main display but can be placed above or to the side. A major consideration is how to get the water to the Refugium and back to the display. Siphoning water can be hazardous because if not careful a hobbyist may end up with a flood.

Designing the "overflow" is critical. A tank may be already set up with an internal overflow with holes drilled through the glass. If the tank is not drilled, many LFS can do this. Another option is to buy or make an external overflow. I have written up a document describing how to make a simple overflow and how to design and test it properly to avoid an accidental flood. To get a copy, send a request to mailto:mark@marksreef.com" rel="nofollow - mark@marksreef.com



-------------
Reefkeeping Tips, & quick, easy setup tricks:
www.utahreefs.com/forum/forum_posts.asp?TID=9244
Pay it forward - become a paid WMAS member