I recently got my 12.5 gallon up and thought I'de start a thread. I've been wanting to try led's for a while now, and the PAR38 bulb from nano tuners seemed about perfect for my nano. I was also trying to build this tank on a small budget. My 30g is getting crowded so it will be nice to have a place to put extra coral. I plan on keeping mostly lps and zoas, with some sps as well if it does well under the lights. Here's the specs

Tank: 12.5 gallon all-in-one from AquaEuro Usa, w/glass top. Bought this for cheap from lfs, with no hood which was perfect for the leds. The quality seems a little on the cheap side, but it looks nice and the price was right. Measures 13.5" H x 16.5" W x 15" D. Ive also hooked up an ATO from autotopoff.com. The stand was built by Exceljoe here on the board, super nice guy and the stand turned out great.

Filtration: This is an all-in-one style cube, I plan on just running some filter floss and chemi-pure elite in the back. I will also put some chaeto back there with a light. Tank is too small to worry about a skimmer, ill just rely on water changes. Ive got about 20-25 lbs and fiji live rock that was donated by a friend(thanks again Amy), I probably wont use it all. Also 1" of fiji pink sand.

Flow: return pump w/hydor flo and a koralia nano. Gives me about 36x turnover, I may upgrade the return pump for more flow in the near future.

Lighting: Nanotuners Par38 lamp, 20k with 60degree optics. The bulb is hung 14 inches over the water surface, which seems to have pretty good spread. I should be able to keep most everthing with the lamp, as long as Im careful about placement. For those who are curious, the par plots from this lamp are found in this thread- http://www.nano-reef.com/forums/index.php?showtopic=221433 - http://www.nano-reef.com/forums/index.php?showtopic=221433 . So it looks like sps/lps in the middle, with softies and low light corals on the edges. I may decide to add another lamp in the future but for now I will try it with one.

Mounting the lamp was my biggest challenge, I looked around the net for ideas but never liked any that I found. So I went to home depot and $8 later I have it mounted on an arm above the tank. It still looks a bit ghetto to me, but for now it works and does the job.

Thats about it, not sure what livestock I want yet, the tank needs to cycle for a bit so I have time to decide. Now a few pics.

TANK AND STAND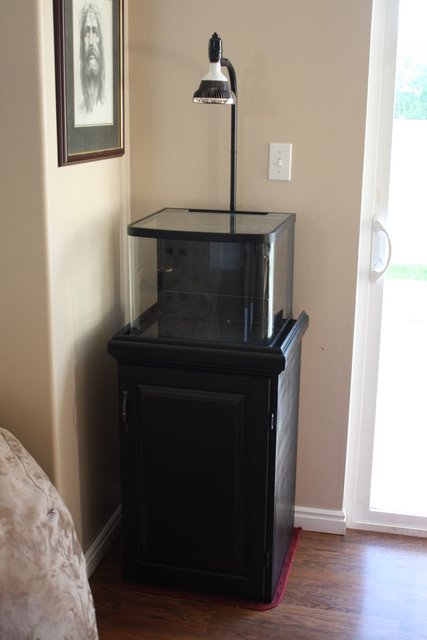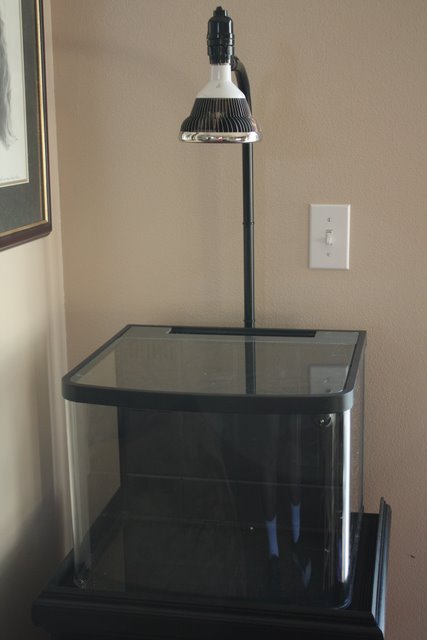 And we have light!
Rock and Sand go in, water still cloudy.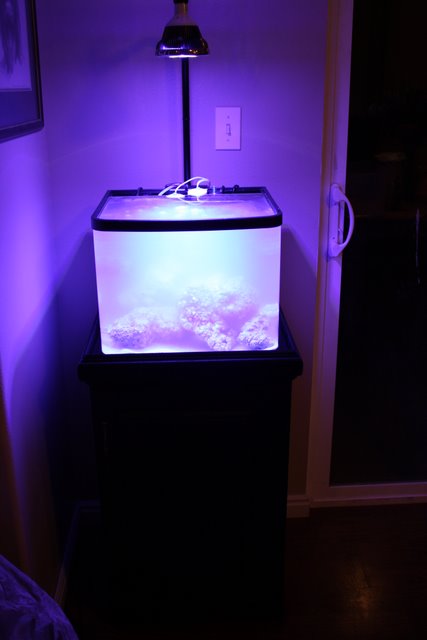 I'll get some more pics after I do my scape, to be continued...



-------------
IM 30L
Kessil A160we x2