http://s1333.photobucket.com/user/christhjesus/media/Resized_20161117_162206_zpsahctpdsv.jpeg.html" rel="nofollow">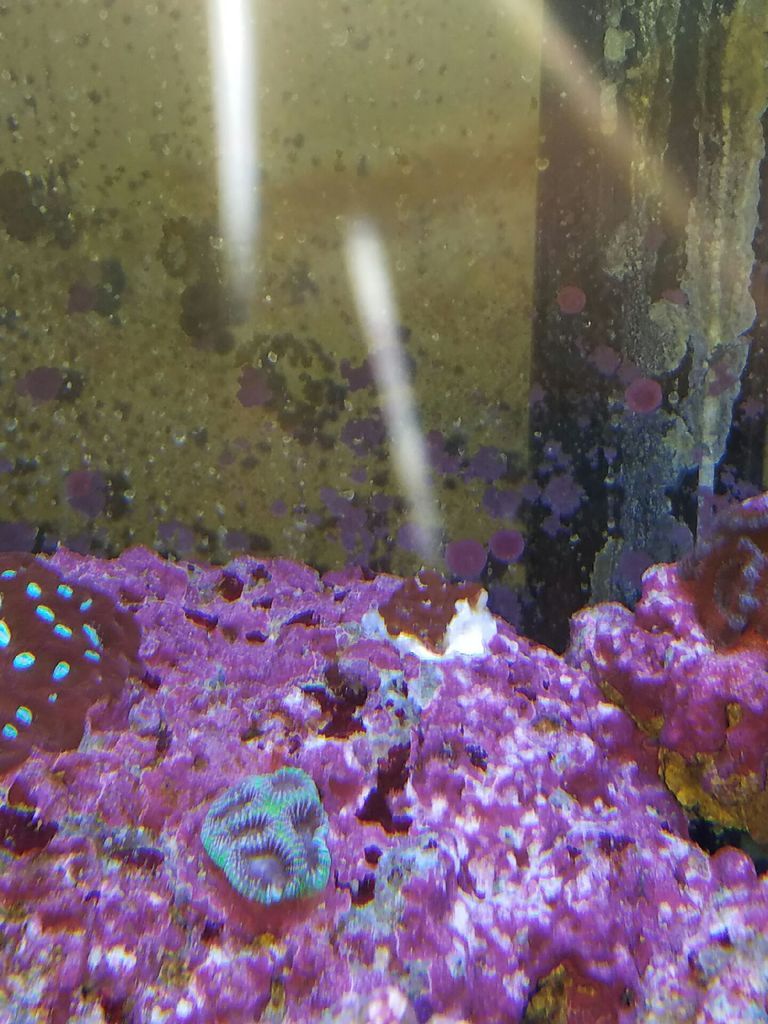 This is the best picture I could get since the frag is at the back and near the bottom of the tank
Tests conducted on 17 Nov, 2016 using Red Sea test kits. Last tested maybe 2-3 months ago, been lazy.
Phosphate: ~.26ppm (color somewhere between .16 and .36)
Nitrate: 2ppm (has been 0 for a few months but I recently started up an auto feeder and I set it for too many times a day to start out, cut it back to once daily for now.)
Alkalinity: 9.0 dKH (targeting 9.0 dKH, this test is the only one that has actually been at target alk.)
Magnesium: 1440ppm (target 1380, going to dial doser back a smidge.)
Calcium: 290ppm (target 420, this is the sort of thing that happens when your lazy and don't test often enough. Bumped the doser up a few ml per day and I dosed as much as I dare in one day, will check and dose again in a few days)
Salinity: 1.024 (target 1.025, slowly added a salty slurry to the sump to get back up to target.)
Food: LRS Reef Frenzy daily for nearly a year, target feed mysis ~monthly to corals. Started Aquatic Dreams Reef Yum-Yum around a month ago, fed it twice so far.
Going to go ahead and add everything I couldnt remember the day of registration.
Lights: 72 inch Coralife (originally a 4-96w square pin) retrofitted with two Fulham Workhorse 8 and 8 t5HO (4-10,000K, 2-6,500K, 2 actinic blue) Odyssea brand for the first year. I am now running Wave Point brand (2-Super Blue 460, 2-Coral Wave coral growth accelerator (purplish color), 2-Sunwave Super Daylight 12,000K, 2-Reef Wave Super Violet O3 Actinic 420)
Mag 12B submerged sump pump
2-50w cool white LED Refugium macro algae lights
Diablo skimmer
2-M900 2-M1900 Mover brand powerheads and 1 unknown gifted powerhead.
Jebao DP-4 dosing pump dosing Mg, Alk, Ca and RO top-off.
Homemade Mg, Alk, and Ca.
¾ Carbon and ¼ TLF Phosban packed filter in parallel with a TLF Phosban reactor running Bio-pellets being supplied by a large Harbor Freight pond pump.
New 10 Nov 2016, Eheim auto feeder feeding Neptune pellets.
125 Gallon Glass tank with Glass-Holes 1500 GPH overflow box.
Homemade 55-gallon tank 3 compartment sump/ refugium, housing the skimmer, macro algae and return pump.