Trying to find a spare base corner kitchen cabinet

Printed From: Utah Reefs
Category: Main
Forum Name: Out of Bounds (Off-Topic)
Forum Description: Posts that are not about fish, aquariums, corals, WMAS, etc.
URL: http://www.utahreefs.com/forum/forum_posts.asp?TID=82799
Printed Date: October 16 2018 at 1:35pm


Topic: Trying to find a spare base corner kitchen cabinet
---
Posted By: L5KFish
Subject: Trying to find a spare base corner kitchen cabinet
Date Posted: June 29 2017 at 6:54pm
---
'Ello! I've been remodeling the whole main floor of my home on a shoestring budget, and was trying to make a set of fairly standard 80's oak Kitchen cabinets i picked up for $200 fit for the space, and am missing 1 or 2 pieces i think would help a ton.
I could lay out all my ideas & everything in this post, but for now I'm just seeing if anyone has a base corner lazy susan sitting around, or any resources or suggestions for me to get ahold of one in the $10-$50 range. I've checked the ReStore at least 10x times, and I heard there's a few members that do cabinet work, and it doesn't hurt to ask. anyway, cheers from SLC.

Edit: here's a couple pics of the style. Also, I've seen some re-coloring kits, think any would work to tint the left piece close to the others? IDK what kind of finish these have on 'em.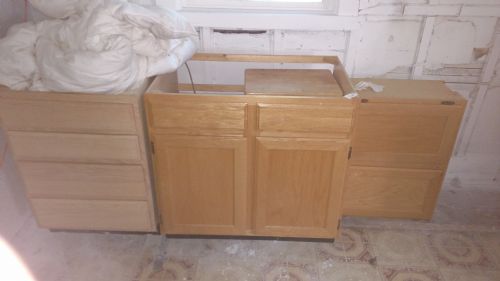 ---