If I'm right, it's common name is Sea Brush algae, though it's not too common in aquariums. I believe it's closely related to Valonia (Bubble Algae). Emerald Crabs are good for cleaning Valonia, though a fish is often better when the Sea Brush gets this long.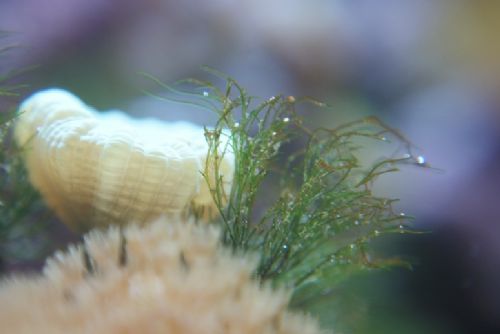 A nice red variety also appears in our tanks.
Those frags have several types of Nuisance algae. They could use a good cleaning by some herbivores. Good herbivores are Snails and plenty of them, Hermits, Emerald Crabs, Tangs, Rabbitfish and Urchins. If recently purchased from another hobbyist, that person needs to know that algae covered frags are unacceptable.
Algae problems are the most common problem in this hobby. When hobbyists learn the value of keeping lots more herbivores(plant eaters) than carnivores(meat eaters), their tanks look and operate a lot better. Resist the urge to buy a Wrasse, a Royal Gramma, a Pseudochromis, a Hawkfish, etc. and buy herbivores instead. Carnivores eat up the little bugs(Copepods and Amphipods) that should be thriving in our tanks. These bugs eat new sprouts/nubs of nuisance algae before we can see them, before they become a nuisance.
The quickest way to speed up the cleaning job is to use a toothbrush on all those frags. Zoanthids and Palythoa especially like a good brushing. It seems to invigorate them. But the brushing won't get the Sea Brush. It doesn't hurt to manually pull off any strands of Sea Brush. To be honest, it's a useful algae in the right situation. Can you see the Sea Brush in the pic below?
Aloha,
Mark

This is from my tank in 1999. It was pretty amazing in it's day.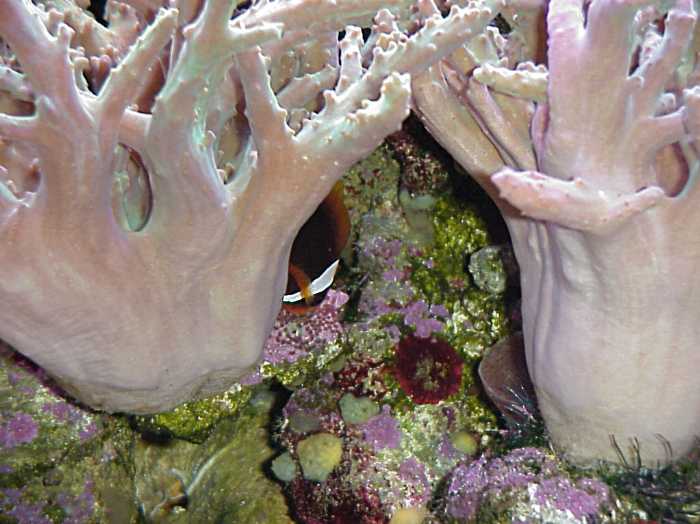 -------------
Reefkeeping Tips, & quick, easy setup tricks:
www.utahreefs.com/forum/forum_posts.asp?TID=9244
Pay it forward - become a paid WMAS member