This tank isn't a build, but this section seemed the best place to show it off. It's the 180 gal, 6' long reef of Ross and Carolyn Bagshaw. Many may remember the marvelous treats, including chocolate eclairs that Carolyn made and provided for many years at every WMAS meeting. Ross doesn't visit utahreefs.com, doesn't use the internet, but he asked me to help him show off his pride and joy.




A little over 15 years ago when I first met Ross, the Bagshaw aquarium was about 110 gals. Ross had what I like to call, "a wet thumb". The tank was so full, coral was growing up out of the water. The same thing is happening in this 180 upgrade which has been growing for about 12 years.




Ross is especially proud of the Blue Wall Hammer that he tells me started as a frag he got from me some 11 years ago. It's a humongous large coral colony about two square feet in size and the Frogspawn is almost as large. Many visitors also notice the large colony of Blundell Buttons, many colorful Brain Coral, Mushrooms, Zoanthids and various types of Gorgonia sticking out here and there.

Enjoy.
Left side
Center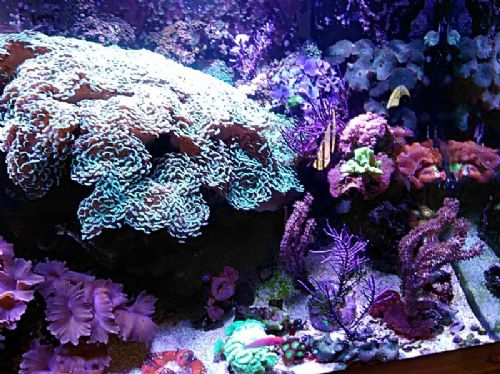 right side
There are some large but hidden occupants of this tank, started as one but split into four or five 2' long Tiger Tail Cucumbers.

Except for a very under-size skimmer, rated for 50-75 gal tanks, there is no filtration equipment, no filter socks, no UV Sterilizer, no Reactor(though AC and AA are used in bags placed in the sump). A large RDP Refugium is part of the biofiltration.
Lights were three 150W MH and 6' VHO Fluorescent tubes for most of this tanks life, until 2 years ago we switched to three AI Hydra 26 fixtures.
Monthly water changes are a little more than 10%.
Alk and Ca are eaten like crazy, so to save effort, last year a dosing unit was set up to dose Alk and Ca. No other supplements are added, typically.
What else would anyone like to know about this gorgeous tank?
Aloha,
Mark



-------------
Reefkeeping Tips, & quick, easy setup tricks:
www.utahreefs.com/forum/forum_posts.asp?TID=9244
Pay it forward - become a paid WMAS member