Underwater world


Visit home aquariums along the Wasatch Front during Saturday's Reef Tour

By Carma Wadley
Deseret News senior writer

Utah's a landlocked state, far from the depths and mysteries of the ocean.


The coral in the aquarium of Salt Lake resident Steve Lopez shows just how colorful an aquarium can be.


Michael Brandy, Deseret News
So, you might think saltwater plants and animals wouldn't be all that popular here.
But that may be the very reason they are.
It's kind of nice, says Adam Blundell, president of the Wasatch Marine Aquarium Society, to think you can keep a little piece of the ocean in your home. "We don't have a lot of marine life in the wild here. But we have people who are growing corals and propagating fish."
People will get a chance to see what is being done in saltwater aquariums during the seventh annual Reef Tour on Saturday, Sept. 14. "It's like a parade of homes," says Blundell. "People can drive to homes all along the Wasatch Front and see amazing animals. It's one of few opportunities to see an octopus, eels, corals and all kinds of marine fish."
The purpose of the tour is to give people a chance to see sea creatures, but also to provide education and materials for those interested in learning more.
Wasatch Marine Aquarium Society is a nonprofit group that provides networking and resources. "We have about 100 members at our monthly meetings," says Blundell. "And there's always room for more."
The tour will showcase 14 members and their tanks, scattered from Brigham City to Lehi. People can visit as many or as few as they want.
The exotic nature of the plant and animal life accounts for the popularity of saltwater aquariums. But so does the fact that "we've made huge advances in keeping fish," Blundell says. "We have better filters, better shipping methods. We understand more about nutrition and about ecosystems. We can bring in 'live rock' from the ocean that has necessary bacteria."
It used to be that keeping saltwater fish was difficult and expensive, he says. "Now it can be cheap and easy." Or not. You can, of course, spend as much time and money as you want.


A brown octopus reaches out to the fist of its owner, Marcus Heygster.


Michael Brandy, Deseret News
When Jake Pehrson, WMAS vice president, was 12, he saw an ad in the back of a Boy Scout magazine for sea horses. He ordered one. "Since then," he laughs, "I've spent all my extra money on fish. As a kid, my parents wouldn't let me have as many as I wanted. Now that I own my own house, I have a tank on every wall. It's awesome."
Marcus Heygster has been keeping fish for only about eight months. "I went to a friend's house and saw his tank. I've always been into strange pets, like snakes, so I thought it would be fun to try something different."
Heygster now has three tanks, including a 120-gallon reef tank with a variety of marine life such as clown fish, anemones, clams, crabs and an electric sting ray (yes, it is really electric, he says, and he knows from personal experience. "It shocks the snot out of you.")
He has a tank with an octopus. "It's an amazing creature. They are very smart." Octopi have the ability to squeeze through very small places; they can squeeze all the water out of their tissues, so they can go through any place that their skulls will fit through. "They are notorious for escaping or going from one tank to another," explains Blundell. "Or, they get out and crawl around and eventually dry out and die, so you have to keep them in tanks that are very secure. But they are so amazing to watch."
Heygster's third tank is for predators — things like lion fish and eels that would attack and eat smaller fish but can get along with others of their kind.
What he likes about keeping fish is the variety. "You can stare at a tank for hours, and you always see something different. And it has a calming effect."
Steve Lopez also got interested in the hobby when he saw what others were doing. "He had the idea of getting the kids some goldfish for Christmas," says his wife, Lisa. "He went to the store, and came home with a 10-gallon tank. Then he saw a bigger one. He started with freshwater and went to saltwater from there."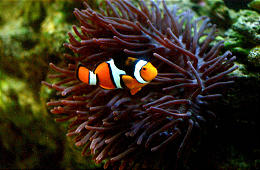 Marcus Heygster's 120-gallon reef aquarium is home to many sea creatures, including a clown fish, shown here, anemones, clams, crabs and an electric sting ray.


Michael Brandy, Deseret News
Actually, says Lopez, "I went on a reef tour two tours ago and got a lot of encouragement. I found out it can be done without a lot of money."
He now has a 75-gallon reef tank, and hasn't had any troubles since the start. He credits a lot of his success to the society.
Lopez is into propagating corals. He takes tiny cuttings and anchors them to rocks with rubber bands until they begin to grow. He trades or sells his extra ones. But his tank now contains spectacular specimens: blastimus coral, woods polyps, clove polyps, mushroom coral, candy coral, green star polyps, button polyps, bubble coral and more.
Propagating coral is part of the conservation effort among members of the society, explains Blundell. "The more we can grow, the less that is taken from the wild."
Coral propagating is getting to be quite standard now, says Blundell. "The new frontier, where the pioneering work is being done, is in raising fish in captivity. We still don't have a lot of success with that."
But some is being done, and Tyler Burningham is one of the people raising baby bangaii cardinal fish. "It's quite an experience, more tedious than I thought," he says. "I have to hatch baby brine shrimp every day for them to eat."
He is on his second batch of baby bangaiis. He got his first little school from another club member after they had hatched. Then he also got a "pregnant" male. "The male fish carries the eggs in his mouth and then spits them out as they hatch. You have to scoop them up quickly, so they don't get eaten." They are kept in a separate tank.
This time he has 32 of the babies. Once they get big enough, he will take them to pet stores or sell or trade them with other members. "Tank-raised fish seem to be hardier," he says.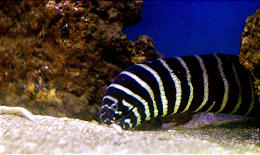 A zebra moray eel lives in one of Marcus Heygster's aquariums.


Michael Brandy, Deseret News
Burningham has been into saltwater fish since 1998.
But now, he says, he's into a lot more than fish. "I like the corals, the clams. I really enjoy watching things grow."
It doesn't take much to get you hooked, says Lopez. "You can work at it. You can sit back and look at it. It's a hobby, it's a passion, it's a piece of furniture, it's a picture. I just love everything about it."
---

Tour details
The Wasatch Marine Aquarium Society's seventh annual Reef Tour will be Saturday, Sept. 14, from 9 a.m. to 4 p.m. It is a self-guided tour; you can start at any location and visit as many as you like.
The cost is a $5 donation per family, payable at the first house you visit and good for all day. The proceeds are used to support educational efforts of the nonprofit society.
For a list of featured reefs and locations, visit www.utahreefs.com, call 809-ADAM or e-mail [email protected]
The Wasatch Marine Aquarium Society meets monthly at the Living Planet's Marine & Freshwater Science Institute at Salt Lake Community College, 4600 S. Redwood Road. Meetings are usually the first Thursday of the month at 7 p.m. For more information, contact numbers or sites listed above.
---
E-mail: [email protected]