OK, so I may have gotten slightly distracted with life and forgot to finish my thread here. Oops! Here are some pics of the build, cabinet and tank 2.5 mos later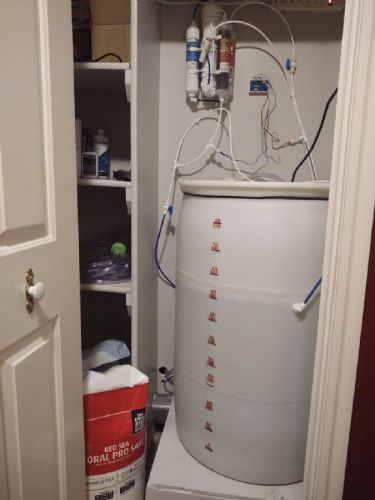 Storage closet turned into a water room - plumbed through the wall for easy water changes!!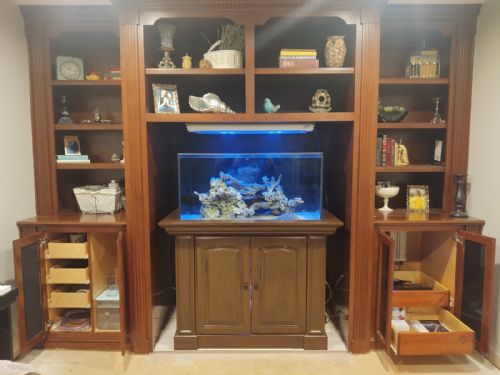 The left side is the "wet side" where I have my ATO reservoir, my python water change system, fragging supplies, nets etc and the right side is the "dry side" for my Apex controller, light controller and all things electrical

And viola....the tank during the day!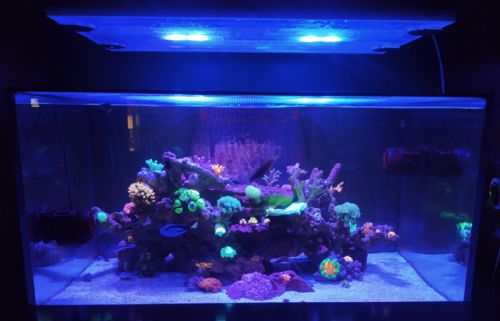 And the tank at night looking like a glow in the dark bowling alley! LOL.
Fishes: two ocellaris clownfish (Fish and Chip), two purple firefish (Jack and Sally), blue hippo tang (Betty Blue), Tomini tang (Tom), lawnmower blenny (Toro), midas blenny (Casper), Pink Fairy wrasse (Pinkerbelle), yellow watchman goby (Walter), cleaner wrasse (Juice), cleaner shrimp (Redd), purple tang (Sarg).
Thanks for looking and I would love any suggestions or comments you might have!