August 7th, 2008
Attendance: 55
Topic- Micro Foods starring Randy Reed from Reed Mariculture
Will Spencer led the meeting as club president Shane Heil was down and out with an injury. Hmmm, I sure I hope I never reach 30, seems like that is when the body starts going down hill. Anyway Will did a great job leading off and getting things going for us.
Upcoming events include The Reef Tour, Members Appreciation Barbecue, Marc Levenson (all about sumps).
Tank Of The Month- Corey gave us a presentation on the newly moved tank of Steve Mitchell (shakin06). Steve recently moved houses (about 5 houses down the street) and his tank has now been up for about 3 months. Steve has a single halide on a 120 gallon tank and mixes it up with stony and soft corals.
Micro Foods- Randy Reed (Reed Mariculture/Reef Nutrition)
Randy comes to us from San Jose. That is by way of a plane mechanical issue that landed him in San Francisco (without him knowing it) and then having to get another flight to SLC.
Randy told us a little history on micro foods in the hobby, then gave us a very detailed explanation on how certain foods can be used in the reef aquarium hobby.
Here are some important items Randy wanted to make clear---
While aquatic life possesses a lot of Omega-3 Fatty Acids, it is only those of marine origin that produce the DHA, which is of the most important types of Omega-3.
In all reality it is the marine phytoplankton that produce DHA, but it bioaccumulates in the food chain. This is why marine fish are "heart healthy" and freshwater fish are not.
Don't grow phyto. Randy clearly states that it is not worth your time and energy. I completely agree with him. Randy convinced me (and several club members) to give up growing phyto a few years ago when he was last here. Just buy phyto. You can buy a huge concentrate that will last you months for $15.
Grow rotifers! (I'll throw out my bias and say Randy is wrong, just buy them) Randy is a huge believer in hobbyists growing rotifers. He wanted everyone to leave with the idea that growing rotifers is the one quick item they can do now to improve their tank. Oh, and of course don't forget 18 hours--- the length of time from rotifer hatching to full grown egg producing. That is super quick exponential growth. Side note- over 1100 species of rotifers, Adam knows about 3 of them.
Copepods are great. They are super difficult to culture (time wise) and don't grow in as high of densities. While very beneficial to fishes they may be best grown in a refugium. Side note- I gave Randy some information that copepods are the most abundant form of multicellular life on the planet... and you can quote me on that.
Mysis are a type of Mysid shrimp. When we say mysis we typically mean the saltwater mysis shrimps, which are not to be confused with freshwater mysids. Keep that DHA stuff in mind.
Okay a big take home message. Different sized mouths have differing food requirements. The digestive abilities of animals have differing food requirements. Therefore it is important to produce a) food that will go in the mouth and b) food that is healthy and c) food that can be digested.
Example- Nanochloropsis is a common phytoplankton. It is great for growing rotifers. Hightly nutritious and rotifers can devour it. However, it is undigestable to about everything else. Therefore it is a terrible food for most reef inhabitants.
Example Two- a large lps coral may have a mouth far too big to eat a rotifer, but then again an acropora may have a mouth way to small to eat a tiggerpod.
I think that sums it up enough.
If you have questions... just ask me.
The day started by a flight delay to San Francisco. But after that we piled in the car...
It was off to visit some wonderful local stores...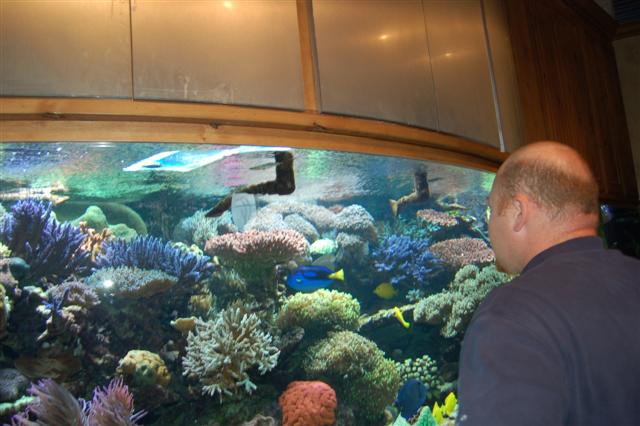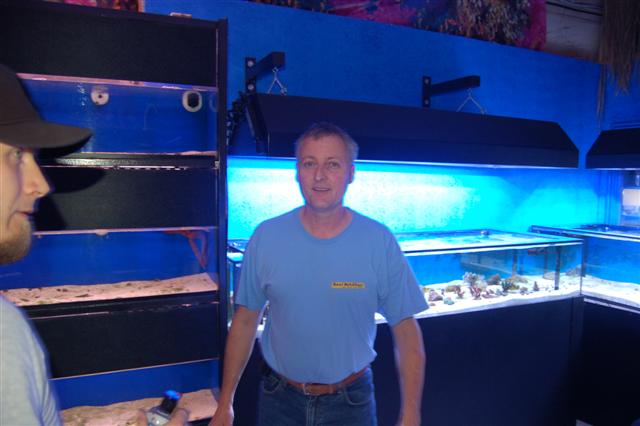 Then a bet between Jake and Sukie (I won't tell you who won, but I will tell you that Jake lost) proved that Apollo burger is on the right and Crown burger is on the left... free meal for Sukie. So to Apollo we went...
Then to the meeting...
Crowd was able to get some very personal attention and incredible information...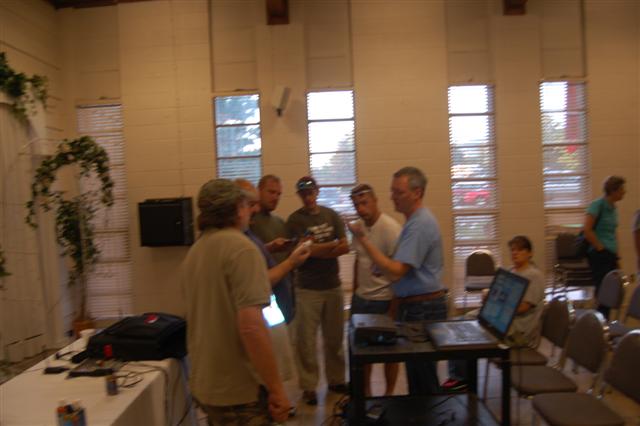 Randy donated hundreds of dollars in product. After that he sold items to whomever didn't win in the raffle...
Thanks again to Randy Reed for making this trip out to visit our club!
Adam


Edited by Adam Blundell - August 12 2008 at 8:50am